Curb-Crete
excels
in offering concrete edging solutions!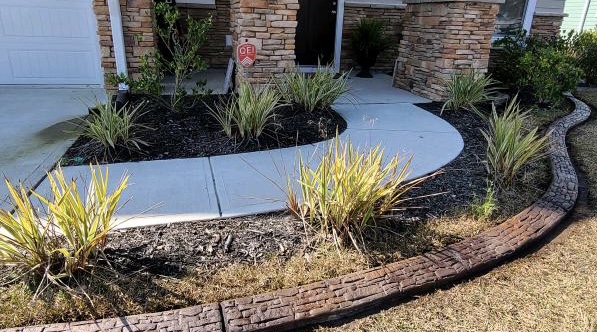 Curb Crete excels in offering concrete edging solutions to residential clients. Since residential needs and preferences can vary greatly, we have expanded our skillset to match just about every design requirement. We started as a small company looking to bring our services to your doorstep and have since blossomed into a full-fledged business that can handle just about anything you throw at us.
Since the day we started, we have been dedicated to providing top-notch customer experiences and satisfaction. Summerville SC is a testimonial of our honest and authentic dealings- a quality that has quickly become our landmark. 
One of our many services in the Landscape Summerville SC market is Concrete Curbing. Concrete, since its invention, has been the go-to construction material, thanks to its peerless durability and quality. We insist on using the highest quality concrete for our curbing solutions to ensure that our decorative pieces go a long way with you in life. Durability is what every resident looks for in their concrete projects because it is not at all practical to have to spend money so frequently on the exact same service, or to have to deal with the hassle involved. Therefore, we work with concrete and create magic with our expertise that can last a lifetime. 
Our concrete curbing decorations look and feel natural, meaning they won't seem out-of-place when integrated into your garden. They will complement the overall mood and aesthetic of your home and bring you all the benefits you've been looking for. We are experienced in custom designs, marked with extra care and detail. You can either let us design for you or share with us any designs you have in mind; either way, our job will be to breathe life into whatever you've imagined. 
With our perfect concrete edging, you can add depth to your property and expand its usage. While acting as separations, these can also be installed to regulate enhanced plant growth, making them perfect for a newly-planted garden. With fast and easy installation, we promise to leave minimal to no signs of our presence in the form of damage to the plants or your home. All that will stand out is perfection deliberately pronounced!
With our concrete edging and landscaping borders, we have redefined the way you think about lawn aesthetics. Perfect for your flower beds and gardens, our high quality borders ensure that you don't have to contact us for any maintenance down the road!
Choose
CURB-CRETE LLC
for Landscaping Borders!
Our innovation is based in our desire for the highest customer satisfaction. This has led us to have great pioneering experiences in the Landscaping Summerville SC business. Those valuable lessons have taught us the exact type of decorative concrete solutions that are desired by the homeowners in the area. We can offer quick and budget-friendly solutions that every household can afford. With our brand of landscaping Summerville SC has become a new landmark for excellent lawns. You care about your lawn, and so do we! 
With our concrete curb edging, we have gained remarkable support and love. People have provided positive feedback, voicing how their lives have been made much better, courtesy of our services. Within every concrete curb edging job, we instill our belief that our relationships with our customers shall outlive our transactions! We decorate any landscape edgings we work on with excellent craftsmanship. With our exquisite attention-to-detail, they are carved with perfection that is still unheard of with what our competitors offer.