Charlestons Top Rated
Concrete Curbing & Landscape Edging Company
Did you always expect your landscape to look stunning, but never achieved that goal?  Do you think that your lawn just looks a bit too boring? If yes, then we've got the solutions you need to spice up your yard life! Presenting our signature landscaping borders and concrete curbing services, our company is on a mission to enhance the way your lawn looks by adding intrinsic value and depth to them. With experience as the area's go-to decorative concrete curbing company, we are here to bring the magic that your yard has been craving.
Lawns and Landscapes have a heavenly aesthetic appeal, giving a lush, relaxing atmosphere to any sized home. Every homeowner takes great pride in the way the lawn looks because of the way a well-manicured lawn brings out the appeal and glory of a structure. Our well-renowned position in the market of landscape borders is based on our vow to treat your happiness as the ultimate sign of our success and your every concern as our inspiration to bring sound, reliable solutions.
WE
DO NOT SERVICE
MYRTLE BEACH!
CHECK OUT OUR WIDE VARIETY OF STYLES!
ASK ABOUT OUR BRAND NEW PATTERN ROLLER THIS SEASON- * STACKED BRICK*
-View pictures below for examples-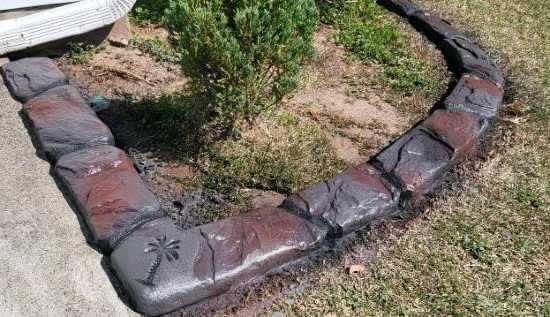 Being a one-stop solution to your searches for 'Decorative Concrete Curbing near me', we offer great flexibility in color choice. We can creatively integrate every hue or shade in our edgings and borders, allowing you to let your garden be a perfect portrayal of your imagination. We use paints that will last long, despite any harsh weather conditions, and will look pristine in years to come.
We provide custom designs that stand tall against the test of time and will look fresh even further down the road. You can either choose from our sample catalog or specify unique aesthetic details. No matter what you opt for, a high-quality end product is the only constant. We also frequently add new designs to our portfolio inspired by day-to-day life and modern structural trends.
What made us venture into landscape curbing?
 Curb Crete started with a simple idea; to make your lawn look the way you want it to. Many companies at the time promised to do precisely that, and the market was heavily saturated. So we took a different approach by offering the best quality decorative designs in curbing, edging, and borders.                                                           
As our methods became more focused on individual preferences and needs, our relationships with our clients grew more substantial. We built our business management techniques not on transactional lines but on the basis of truth and honesty, because servicing you in the best way is more important to us than anything else.
Landscape edging borders, for the longest time, have been constructed using boring approaches. From design to material choice, every part of the process has been plagued with sub-par quality and durability.  Landscape borders are more than just separating structures, they are a way to bring life to existing areas where grass, as well as plants, have begun to look unruly and messy. 
Innovation determines how long a company can serve its community. In Summerville, residents have been deprived of well-rounded and comprehensive decorative services. Choices have been limited, and the lack of options has limited concrete edging to being merely dull separations of the land and nothing more. However, we desired to change that with our custom-made landscape edging borders, which guarantee unparalleled resistance against external conditions and great functionality.
High Quality Work At Affordable Prices!
CLICK BELOW TO VIEW OUR VAST PORTFOLIO!
MAKE THE
RIGHT CHOICE
THE FIRST TIME!
Concrete garden edging is a great way to add meaningful separations to a lawn, especially if there are numerous types of plants. It makes the place seem vast and expensive while offering greater versatility as more area per unit can be harnessed for various landscaping practices. Our decorative services will make your existing garden edging look more beautiful while enhancing your property value down the road.
Landscaping borders also enable more soil stability as they allow the ground to hold itself intact with plant roots. This then results in superior growth and regulation of grass and various plants.
Our Services as the
Leading Decorative Curbing
Company
Whenever a Summerville resident searches, 'Decorative Concrete Curbing near me', we top the list! This has been made possible thanks to years of service in the field. Our cost-effective solutions ensure you won't be spending any extra and unnecessary cash on your stamped concrete edging. This is in line with our trademark recognition of serving people well and with the best quality.
-Colored, Powdered, and Rolled-
CONCRETE LANDSCAPE EDGING
Concrete equals durability! With our concrete landscape edging numerous properties have been equipped with in-depth aesthetic appeal. Popular among residential clients, these types of edgings are able to be constructed with either modern or traditional designs to help you pull off the look you desire. After all, nothing matters more than what you wish! We decorate any landscape edgings we work on with excellent craftsmanship. With our exquisite attention-to-detail, they are carved with perfection that is still unheard of with what our competitors offer.
We work with materials that are reliable and long-lasting, ensuring that your investment maintains its value. Such a material choice has allowed us to cater to a range of customers, no matter where they live. From northern to southern areas, our experts have covered everything and are ready to take on projects of every category and difficulty
-NEW Stacked Brick Roller- CPR
We excel in providing solutions that will last you a long time. Our design choices are fully integrated with current trends to make your lawn perfectly match your aspirations. They can be installed in a range of residential and commercial properties, meaning our solutions are highly versatile and can really tie together a landscape if you have them in multiple places.With our brand of maintenance-free concrete solutions, Summerville SC residents always admire our top-notch services as they can rest easy knowing they would never have to spend more redoing the same project in the future.
With our concrete curb edging, we look to endow every garden and lawn with a new and greater dynamic. Change is what drives us! Our solutions bring much needed change to the place you interact with the most. Needing little to no maintenance down the road, these solutions are a lifelong investment.
Rick Swain
one week ago
Thanks to Ryan and the rest of the Curb-Crete team for the great job they did at my home. I've struggled with numerous other local Contractors for various jobs over the years but this team did everything I could have hoped for and more. Awesome product, professional installation, reasonable price, speedy delivery and Ryan had the patience and experience to help me pick the right shaping, color and design. Everything looks terrific and should last for years to come. Keep up the good work! Next item of business: Mulch!
Ted Linczak
Positive: Professionalism, Punctuality, Quality, Responsiveness, Value Awesome product, great service. I met with Ryan last week to talk about curbing, and within 7 days he was able to have everything fully finished for us. Professional, timely, and great to work with. We are thrilled with how the final installation came. Highly recommended, give these guys a call!
Kevin Loudin
Ryan and his team did a fantastic job installing my curbing. They arrived on time, installation was top notch, and cleaned up everything after. They were an absolute pleasure to deal with! Would highly recommend and would use them again!
Logan Burrows
Ryan does a great job. He finished my entire front yard in a half day. The workmanship and communication during the whole process was great. I would definitely recommend him to family and friends. My yard now looks 200% better thanks to him! He does the work himself. No sales guy, followed by contractors you have never met. A++
Matthew Hammonds
Ryan and team did an amazing job! They have pride in their product and the final results show it.
Gardens are one of our favorite projects to work on! Our experience has taught us to effectively match our curbing and border solutions with the overall dynamic and look of your landscape. This is a great project for us if you are a residential customer concerned about the way your property looks.
Using Decorative Concrete Curbing Summerville SC residents can enjoy the results of a captivating and awe-inspiring landscape. Since it is more durable and economical than generic curbing, your money will be invested in the right place, and you can bid farewell to all your landscape problems. Unlike poor-quality landscape edging, it wont decompose like wood or move like a brick with your time passage. Instead, the Concrete Curbing will offer a clean edge appearance that will add value and definition to your property. Check out our After Care page!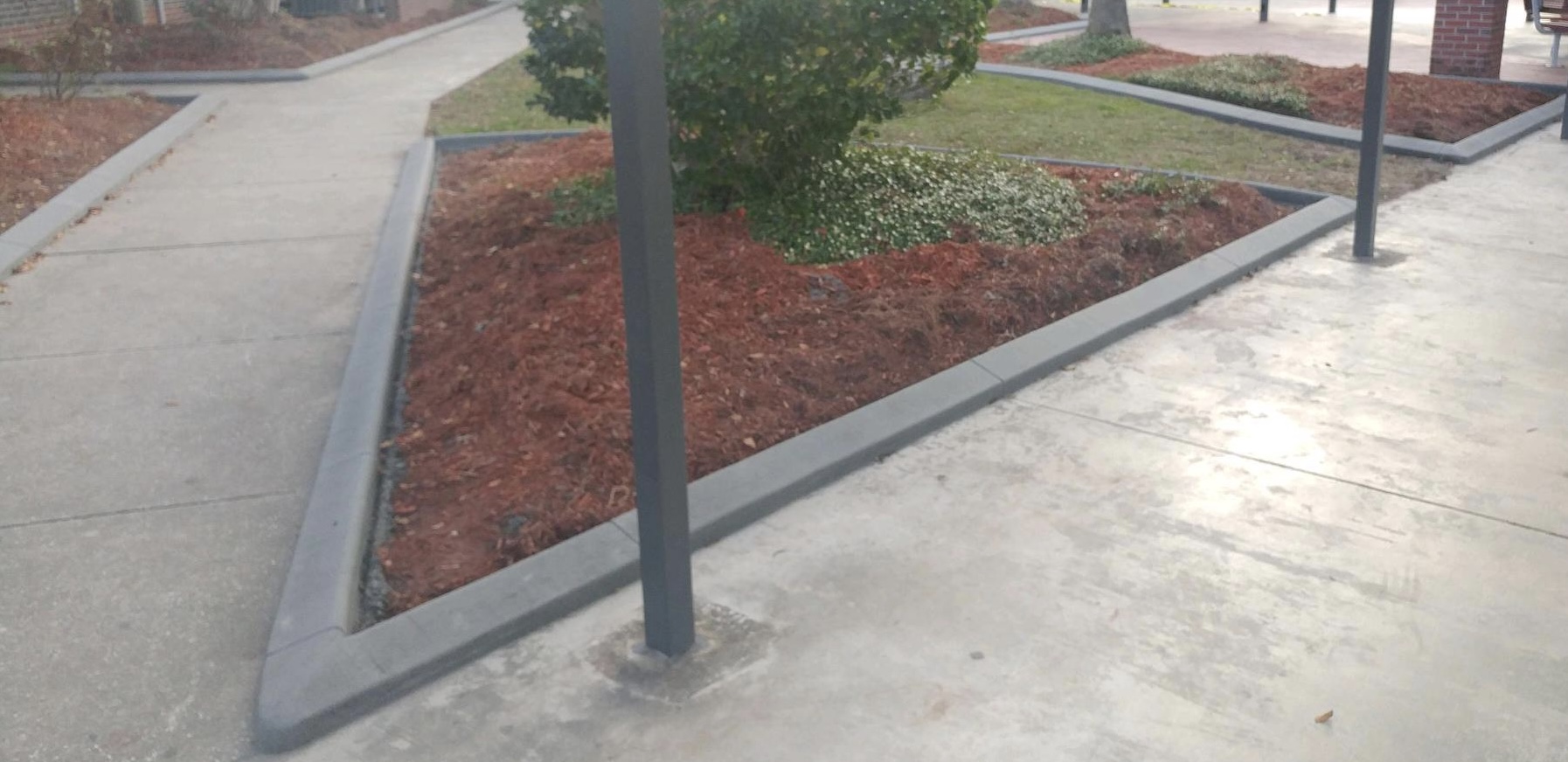 Landscaping, if done right, can add immediate beauty to any place! We can help you bring your dreams into reality with effective landscaping solutions that guarantee your time with us will be worthwhile and productive. Our team of experts is highly trained with all the necessary skills to make your experience as smooth as possible. Click Me
With constant innovation come new and novel designs. This is a true sign of our success as we have always tried to go the extra mile and provide satisfaction. From our experience, we have learned that our approach to landscaping Summerville SC sites demands a more extensive level of decorative details and budget-friendliness. 
CALL NOW FOR AN ESTIMATE !